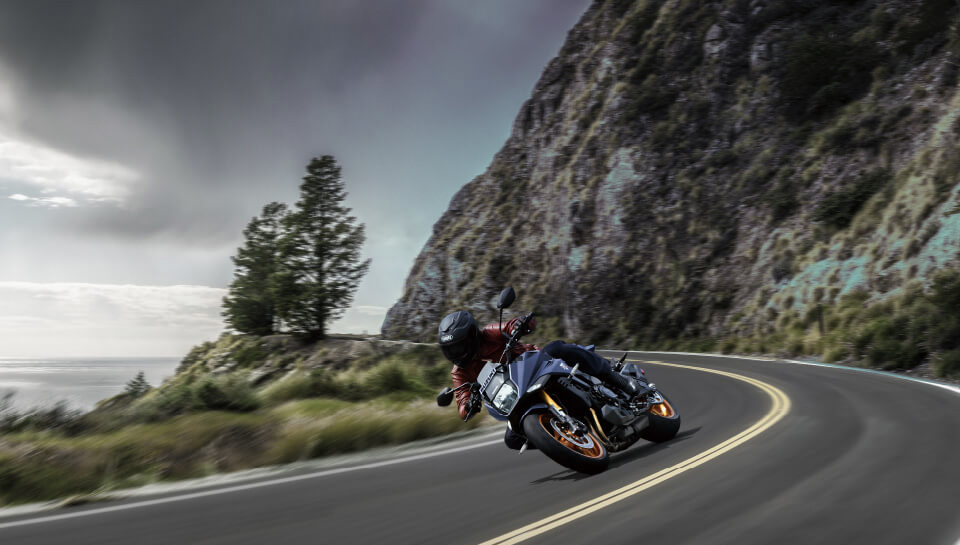 Forging a New Street Legend
Further honing of the 2022 KATANA puts an even finer edge on overall performance and riding pleasure. Updates include the introduction of advanced electronic controls and refinements that result in greater overall performance. Styling improvements highlighting its quality and distinctive good looks include cool new body colours suited to a superior street bike and new trim for functioning parts.
*Images of the vehicle without saree guard on public roads are composite photos.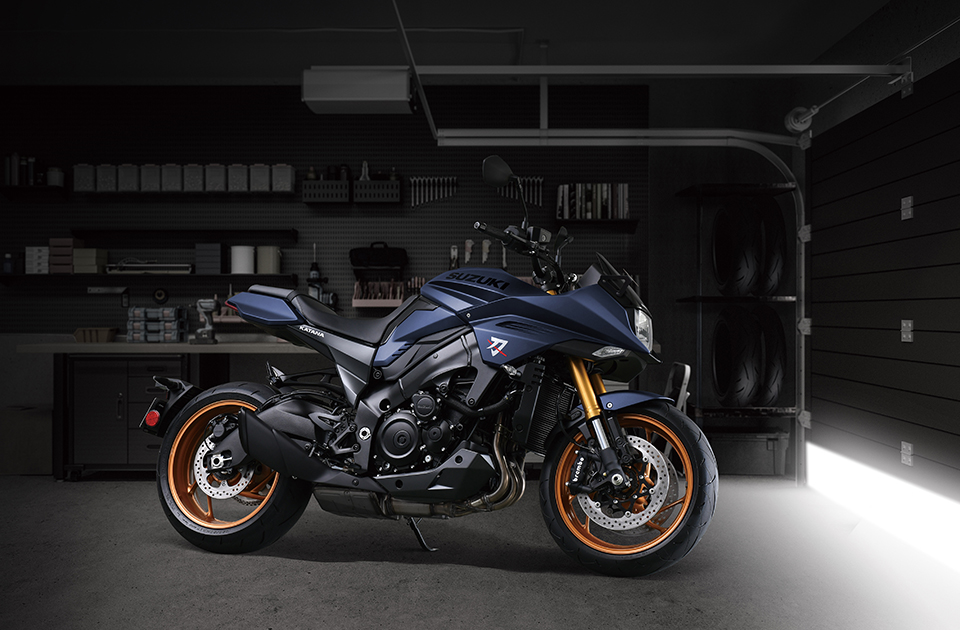 A cut above
The epitome of fine craftsmanship and pure functional beauty.
Design inspiration for the original 1981 Suzuki KATANA came from the famed Japanese sword of the same name. It is a fitting motif for two reasons. Firstly, it reflects well the sharp lines and outstanding performance of the legendary KATANA's functional beauty. As importantly, it reflects well Suzuki's philosophy of uncompromising craftsmanship and attention to detail.
Colour concept: "Premium Chic"
While the colours for the 2020 KATANA aimed to reflect the model's heritage, the solid colours and matte finishes for the 2022 model KATANA were chosen to introduce a cool look suited to today's tastes. These combine with coordinated colours for running gear parts to realize a look of enhanced quality.
The following changes were implemented on functional running gear parts.
Front forks: changed from black to gold
Wheels: changed from black to coordinated colours
Rear suspension coil: changed from red to grey
Seat colour: dark tone introduced on one section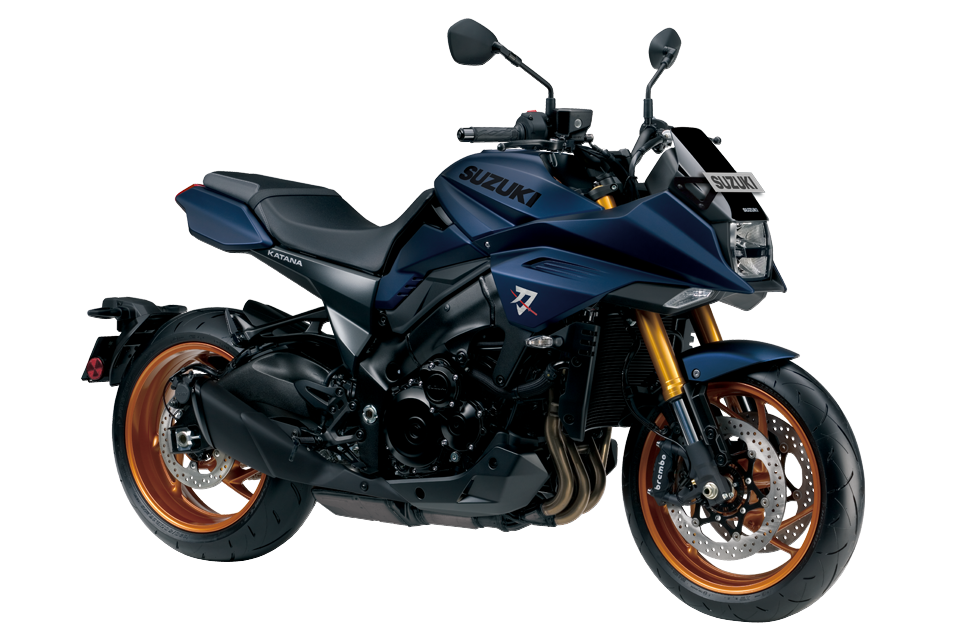 Metallic Matte Stellar Blue (YUA)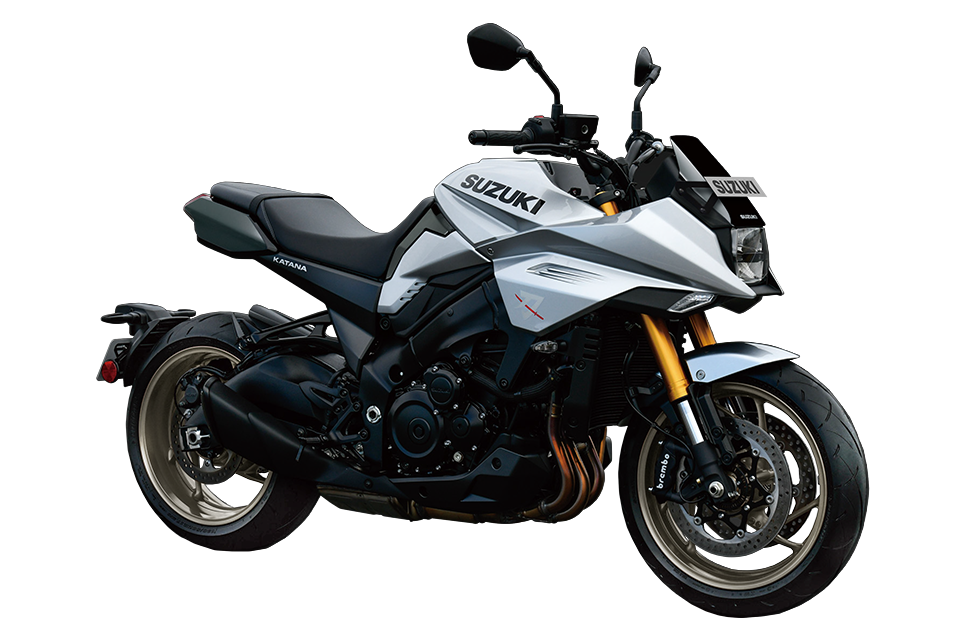 Metallic Mystic Silver (BCX)
Key mascot
A custom-designed ignition key sporting the KATANA logo on the grip end adds a luxurious touch that instills greater pride of ownership.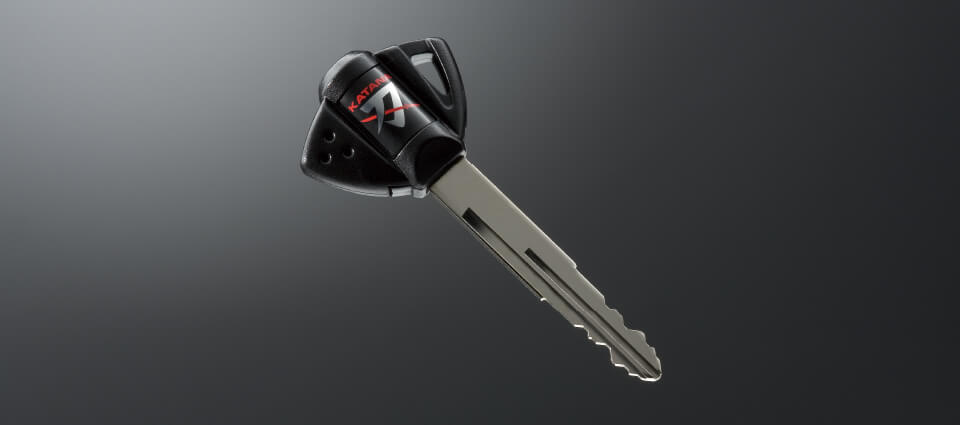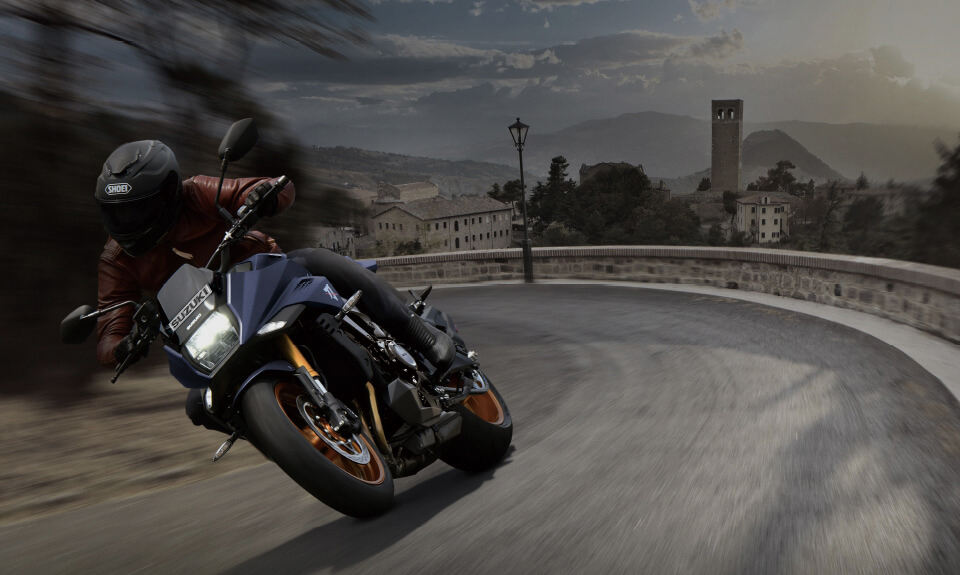 Suzuki Intelligent Ride System (S.I.R.S.)
The Suzuki Intelligent Ride System (S.I.R.S.) introduces a collection of advanced electronic control systems that enable the rider to optimize performance characteristics to match their level of confidence and experience, and to best suit specific riding conditions and varying road surfaces. The respective systems that comprise S.I.R.S. assist the rider by helping make the bike more controllable, more predictable, and less tiring to operate, whether out for a sporty run or enjoying a ride on city streets. This benefits the rider by instilling greater confidence and allowing them to concentrate on enjoying the riding experience.
Suzuki Drive Mode Selector (SDMS)
SDMS is designed to offer a choice between three different modes that change output characteristics — especially when turning the throttle grip between a slightly open position to when it reaches the top of the mid-speed range under acceleration — to match riding conditions or preferences. The settings for each mode were custom-tuned and thoroughly tested to build in the flexibility to better adapt to changing weather, road and riding conditions and optimize performance to make the overall riding experience more enjoyable.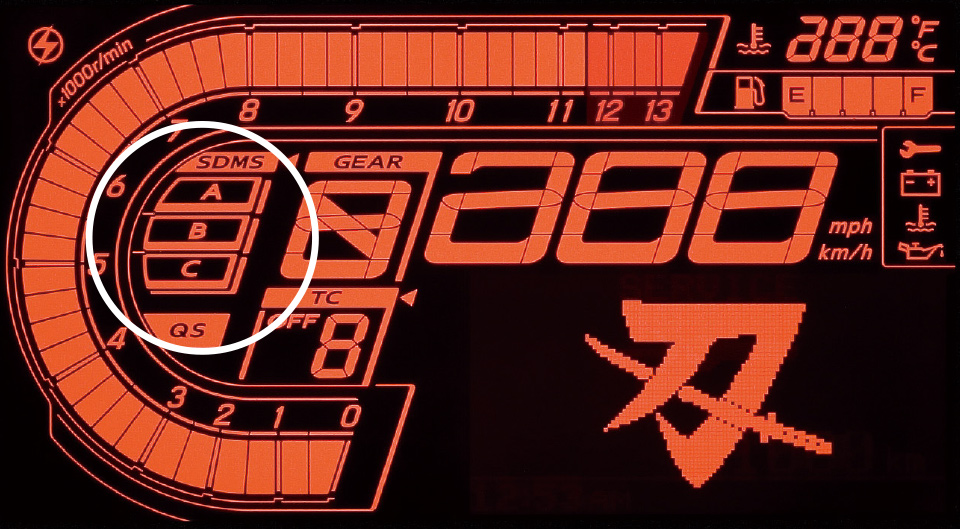 SMDS mode display
Mode A (Active) is the mode of choice when the rider wants to put the finest edge on their KATANA's performance. It provides the sharpest response as the throttle is opened, and the settings for torque characteristics are finely tuned to deliver the exciting acceleration of a superior liter-class sport bike when enjoying an aggressive run. It is well suited for use when hitting the throttle hard, such as when participating in track day events or enjoying a sporty run on winding roads in good weather.
Mode B (Basic) reaches the same level of maximum output, but features softer response and a more linear power delivery curve as the rider opens the throttle. Tuned to make the bike more controllable and instill confidence when accelerating, this mode is a good fit for everyday riding.
Mode C (Comfort) provides the softest throttle response and more gentle torque characteristics, delivering power in smoother linear fashion while still reaching the same level of maximum power output. Gentler throttle response and limited torque production as the throttle is opened makes the bike even more obedient and controllable on wet or otherwise slippery surfaces or when road conditions are bad.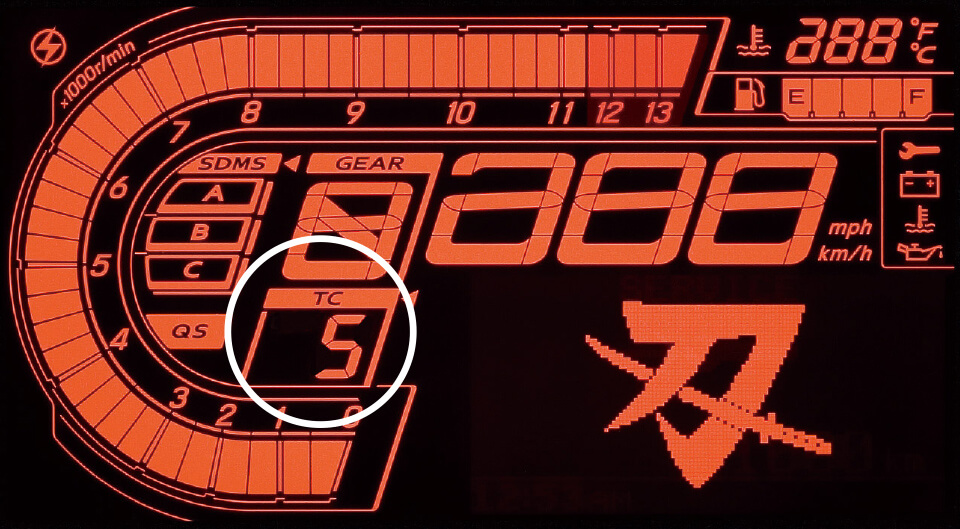 TC mode display
Suzuki Traction Control System (STCS)
STCS is updated from the 3 mode (+ OFF) version of the previous generation to now offer a wider selection of 5 mode settings (+ OFF). The finer incremental control over settings allows the new 5-mode traction control system to better fit a more diverse variety of riding conditions and styles. This in turn instills greater confidence in the rider, regardless of experience, while reducing stress and fatigue. The higher number the mode, the faster the control takes effect and the more proactive the system is in limiting wheel spin.
Note: The Traction Control System is not a substitute for the rider's throttle control. It cannot prevent loss of traction due to excessive speed when the rider enters a turn and/or applies the brakes. Neither can it prevent the front wheel from losing grip.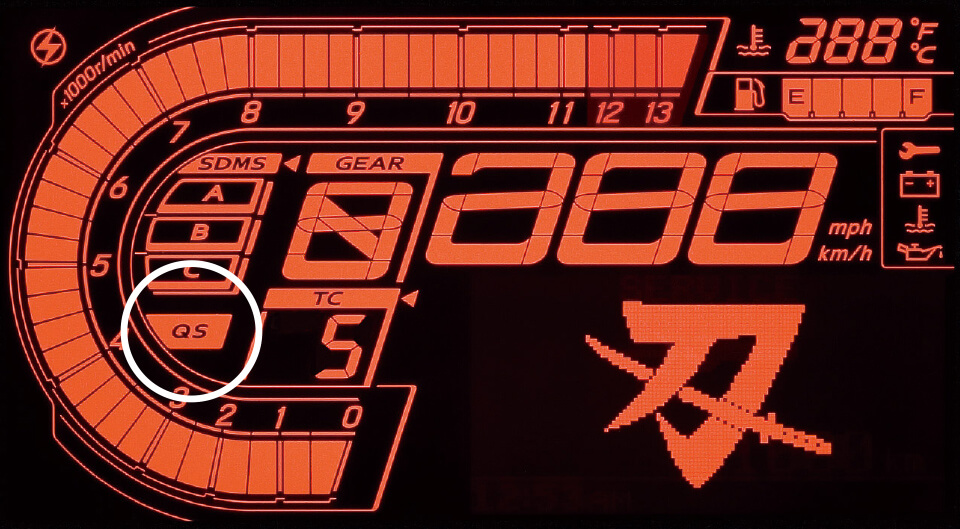 QS mode display
Bi-directional Quick Shift System
This distinctive feature enhances the riding experience by enabling the rider to shift up or down smoothly without operating the clutch lever.
When activated by the rider, the system automatically interrupts power delivery when accelerating just long enough to produce smoother, almost uninterrupted acceleration when the rider shifts up. When decelerating, the system automatically increases rpm to match engine speed to the next-lower gear ratio. The result of this hands-free automatic blipping function combines seamlessly with engine braking to realize highly satisfying downshifts.
The Bi-directional Quick Shift System combines with the SDMS power output mode settings to enable the rider to more freely prioritize sports or stability characteristics to match their style or the riding conditions of the moment. It also provides greater riding fun with a more linear shift feel when changing gears.
Ride-by-wire Electronic Throttle System
The newly introduced electronic throttle control system leverages the processing capabilities of a 32-bit ECM to control the action of the throttle valves. This makes it possible to introduce the variety of new electronic control systems that instill greater confidence in the rider and make the riding experience even more fun. The overall result is throttle action that responds faithfully to the rider's intention, whether riding on the street or heading out to enjoy a sporty run.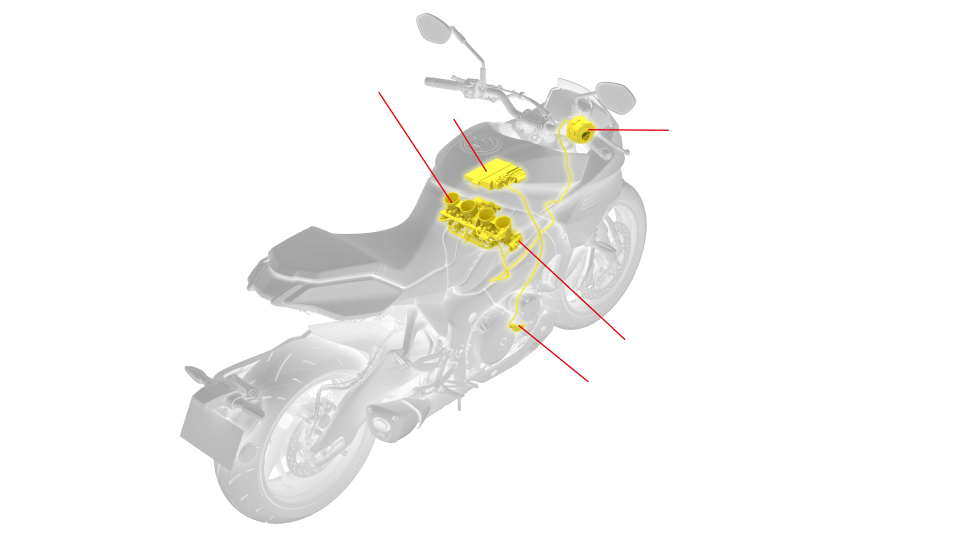 Ride-by-Wire Electronic Throttle System image
Low RPM Assist
This updated system employs TI-ISC (Throttle-body Integrated Idle Speed Control) to seamlessly boost engine speed when releasing the clutch lever to launch from a standing start or riding at low speeds, thereby suppressing engine stalls and helping ensure better control and operation in stop-and-go traffic. It works in harmony with the Suzuki Clutch Assist System (SCAS) to make pulling away form a standing start even smoother and easier.
Suzuki Easy Start System
This system enables the rider to start the engine with one quick press of the starter button. There is no need to pull in the clutch lever when the transmission is in neutral, and the starter motor automatically disengages the instant the engine fires up. As a function used every time the engine is started, the system's simplified operation makes riding all the more fun.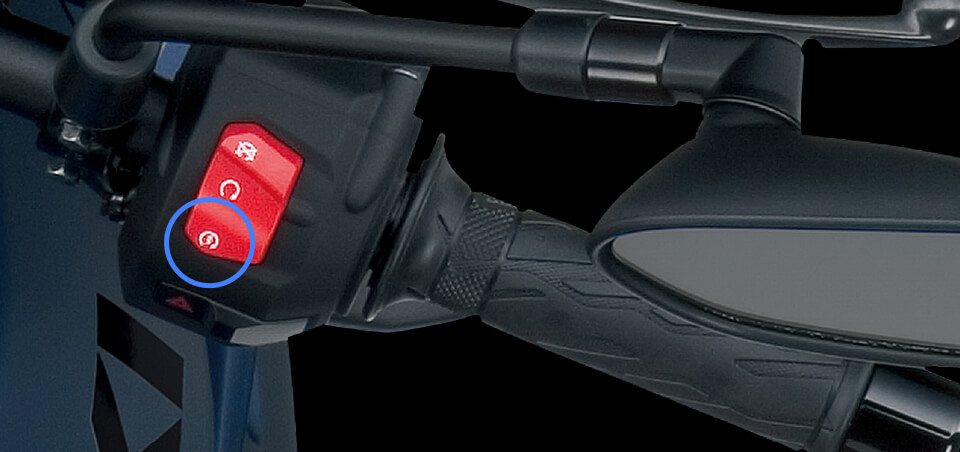 Suzuki Easy Start System Switch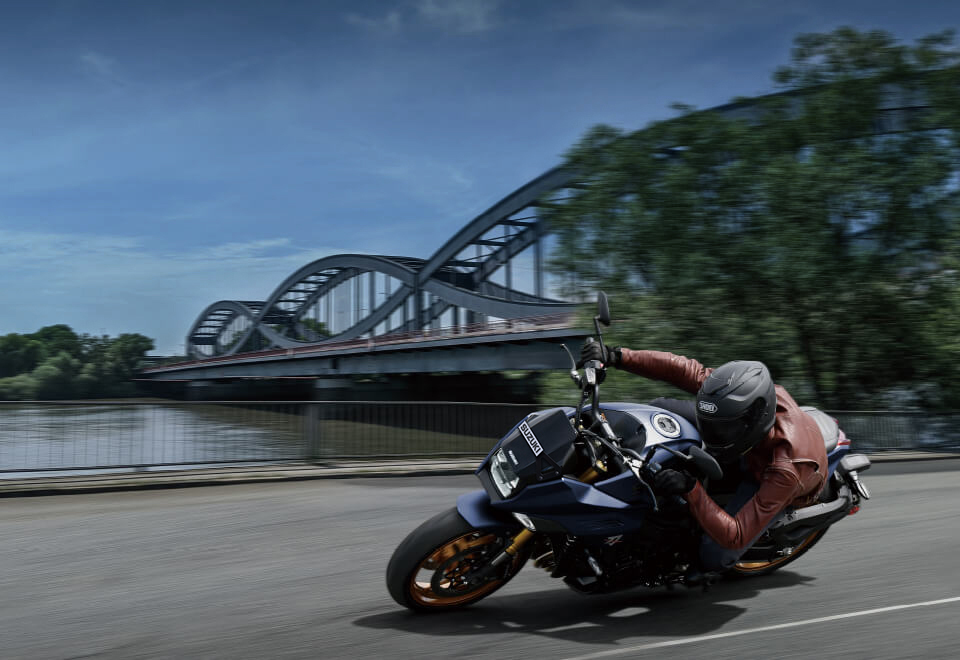 Engine Design
Tuned to deliver ideal overall performance on the street, the core architecture of this high-performance 999cm³ four-stroke DOHC liquid-cooled inline-four engine benefits from know-how acquired over decades of winning countless production races, and from technologies developed for MotoGP racing. Updates for the 2022 model year — including new camshaft profiles, new valve springs, a new clutch and a new exhaust system — further increase maximum power output and achieve an overall better balance of performance, all while satisfying BS6 emissions standards.
Not only does the updated engine feature a broader, smoother torque curve with fewer peaks and valleys, it also achieves greater overall cumulative torque production across its operating range. And, though maximum torque is marginally lower than on its predecessor, the engine features greater torque production at low rpm. This brings a more satisfying feeling of immediate response and acceleration from low speed. It also demonstrates quicker response at mid-range and higher speeds, which leads to a more exhilarating and enjoyable riding experience.
Maximum power output is achieved at higher rpm (11,000 vs. 10,000), and this makes opening the throttle and revving the engine all the more fun. This combines with the rich variety of newly introduced electronic control technologies to make the KATANA more controllable, more predictable, and less tiring to operate.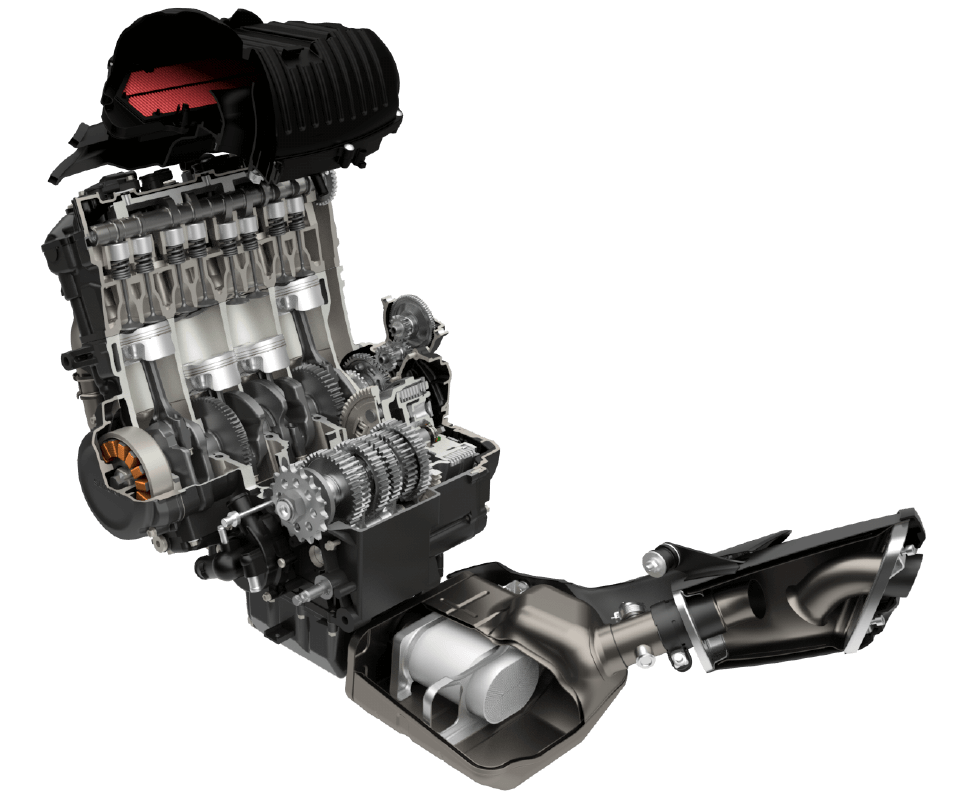 Engine cutaway
Exhaust system
The sporty 4-2-1 exhaust system for the 2022 KATANA carries over the clean, sharp looks and luxurious note of its predecessor. Beneath the surface, it was completely redesigned and tuned to help deliver maximum overall performance while satisfying BS6 emission standards. Structural changes include a new layout behind the collector, a new chamber structure, and the introduction of a new two-stage catalytic converter system that positions an elliptical ("racetrack-shaped") converter inside the chamber to secure ample catalyst volume. In addition, the collector is now marginally longer and the Suzuki Exhaust Tuning (SET) system positioned a little differently.
As an added benefit, the exhaust note for this updated system was tuned and optimized using Suzuki's own Exhaust Sound Quality Evaluation Program. The program's quantitative analysis and evaluation helps realize a pleasing exhaust sound that does not disturb the rider while on the road, but does produce a luxurious note the instant the engine is started.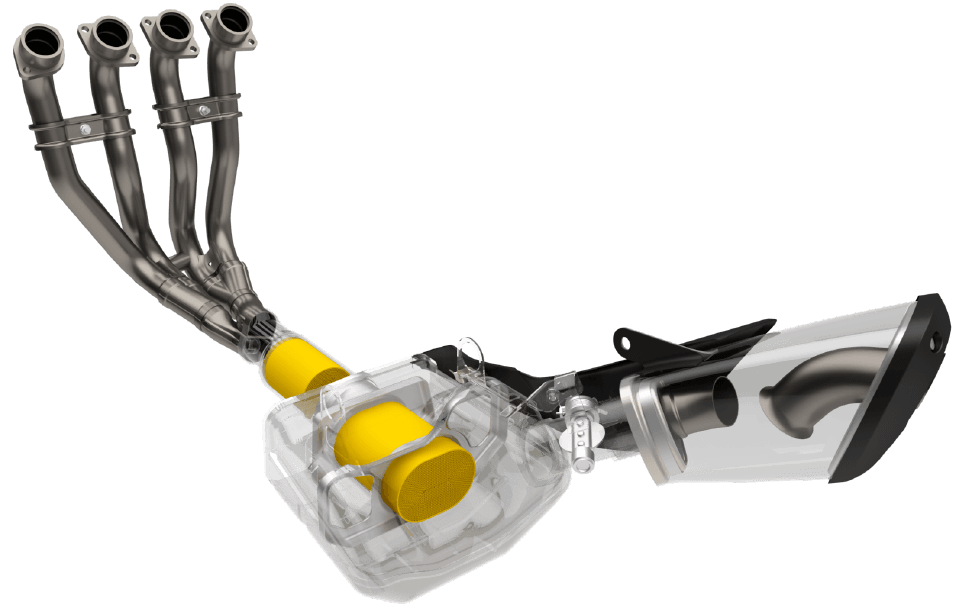 Electronic Throttle Bodies
New electronic throttle bodies not only contribute to satisfying BS6 emissions standards. Their optimized Ø40mm bore size — changed from the Ø44mm bore of the mechanical throttle bodies they replace — help achieve a better balance between idling speed control and power output characteristics for enhanced drivability and an exciting riding experience. By leveraging the processing capabilities of the 32-bit ECM to control the action of the throttle valves, the new electronic throttle system also makes it possible to introduce the KATANA's collection of new electronic control systems. One of the many benefits is more controllable behavior when the rider opens the throttle to accelerate out of a corner.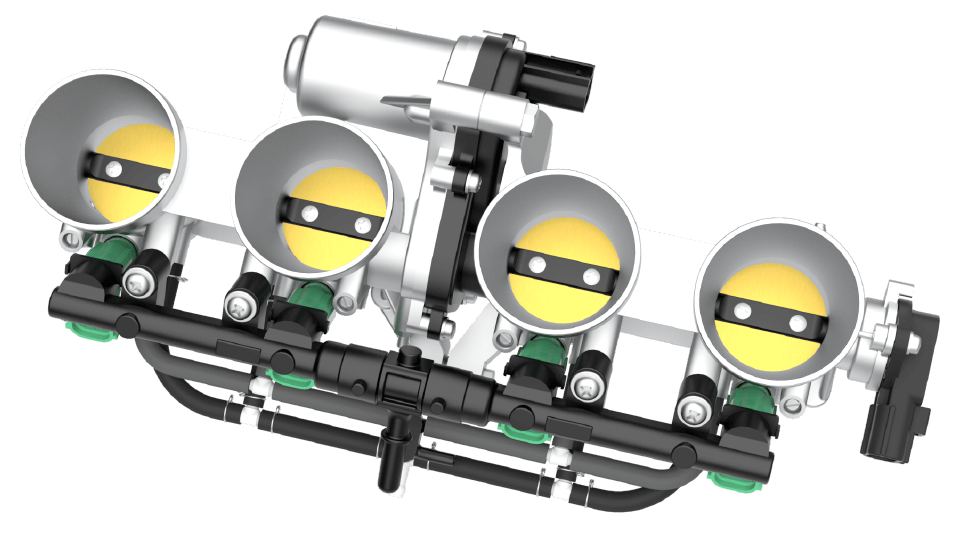 Air cleaner box
The air cleaner box introduces an internal structure that contributes to increasing power output by effectively reducing intake resistance. While the new design slightly reduces the box's volumetric capacity from 8.9L to 8.2L, eliminating the separator improves serviceability and reduces weight.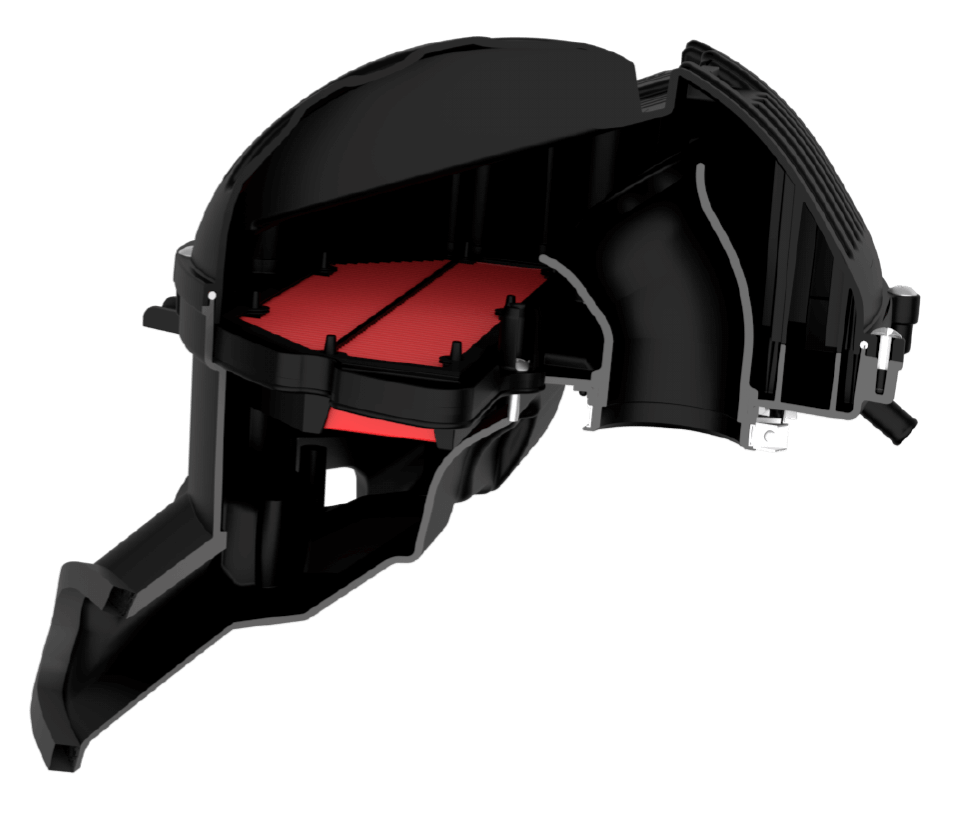 air cleaner box
Camshaft
A camshaft with carefully revised exhaust and intake cam profiles decreases the amount of lift and reduces valve lift overlap. This helps improve emissions performance while achieving a better overall balance of performance and controllability, particularly at low- to mid-range speeds.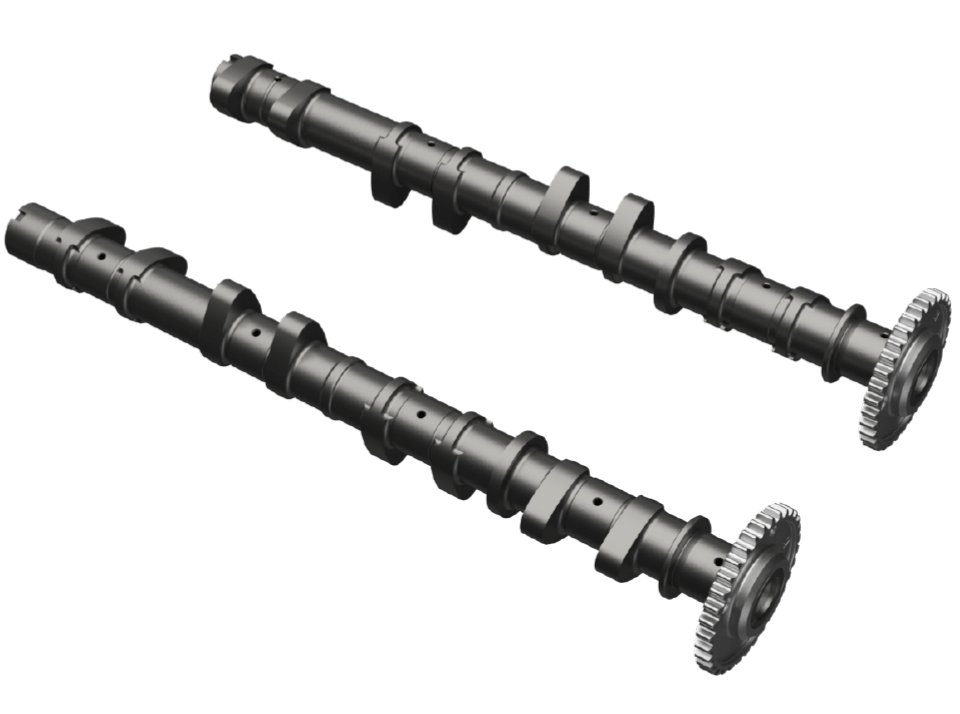 New camshaft
Radiator
The radiator adopts a new design that reduces airflow resistance by approximately 18%. This enhances cooling efficiency enough to lower the temperature by approximately 1.5℃ when idling. Its larger fin pitch also helps better dissipate heat when the fans spin up in situations such as stop-and-go traffic.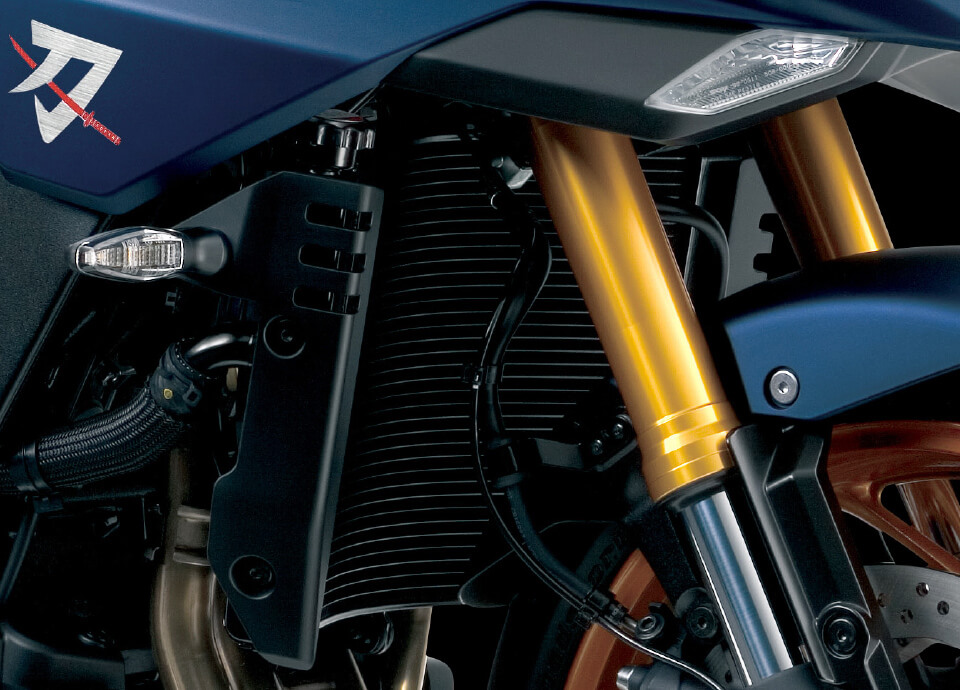 Suzuki Clutch Assist System (SCAS)
The Suzuki Clutch Assist System (SCAS) for the 2022 KATANA introduces an assist function to complement the previous generation's slipper clutch.
The slipper clutch partially disengages when downshifting from high rpm to mitigate the effect of engine braking. By mitigating the chance of the rear tyre locking up or hopping and working in harmony with the Bi-directional Quick Shift System to realize smoother deceleration, SCAS enables the rider to shift down with greater confidence and maintain better control when downshifting into corners.
The newly added assist function increases the clutch's clamping force under acceleration and thereby allows the use of softer springs while still efficiently transferring torque to the rear wheel. This cuts the amount of effort needed to operate the clutch lever by approximately 20%, so results in a light touch that reduces left hand fatigue when stuck in traffic jams, or in other situations that require frequent clutch lever operation.
Suzuki Clutch Assist System cam operation diagram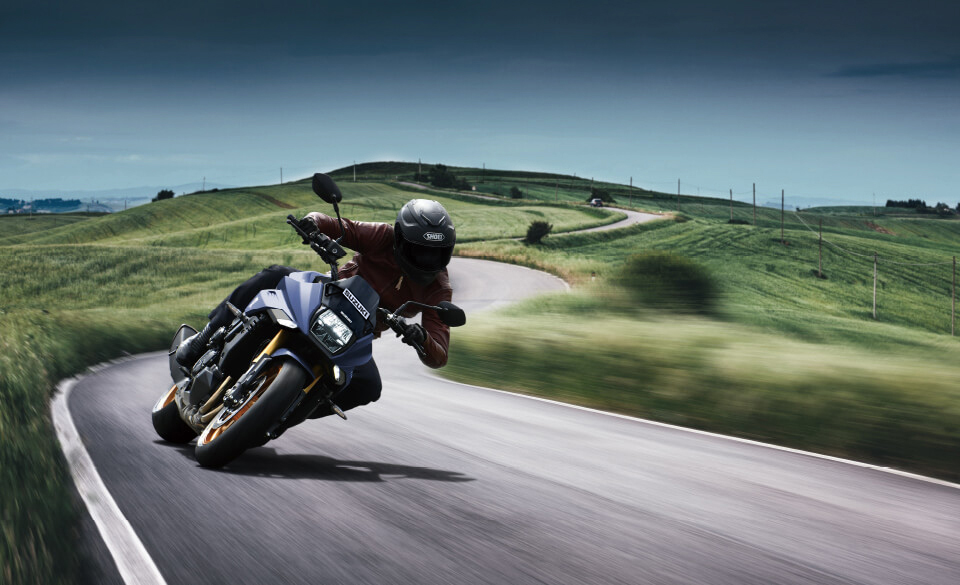 Chassis Design
The compact, lightweight chassis is engineered to provide agility, ease of control and a fun-to-ride character riders will enjoy. It is also aimed to perform best in real world riding conditions on public roads, in city traffic, on the highway, or on rural and winding roads.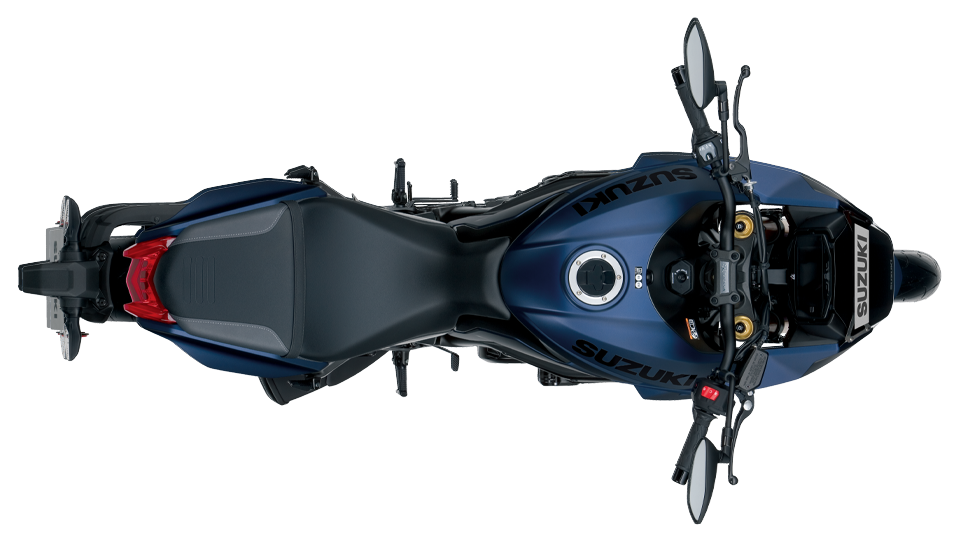 Floating handlebars
Rubber mounts introduced in the top bridge and handlebar brackets reduce the amount of vibration transmitted to the rider's hands. As a result, the floating handlebars contribute to improving comfort and reducing rider fatigue.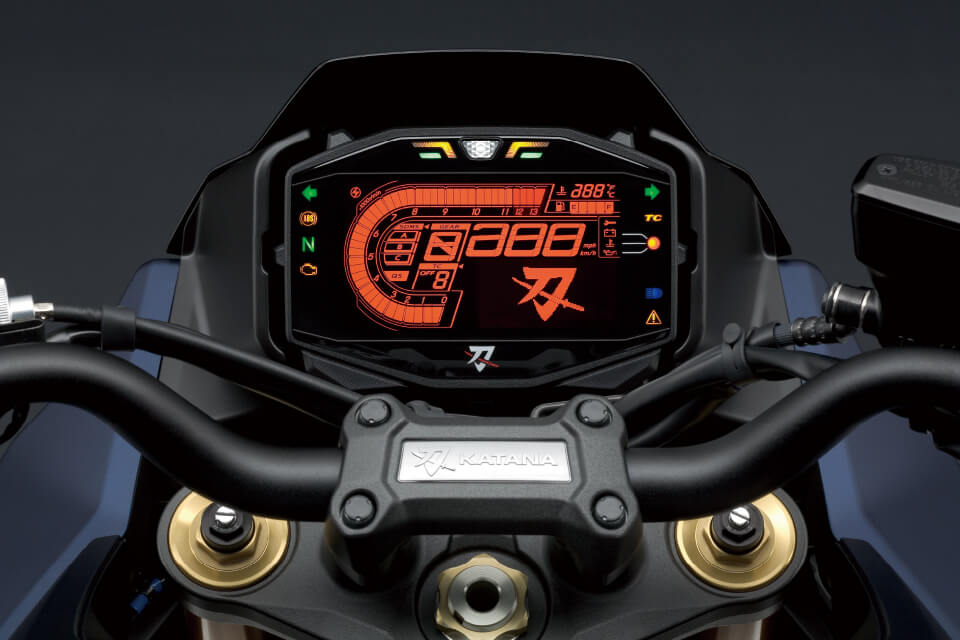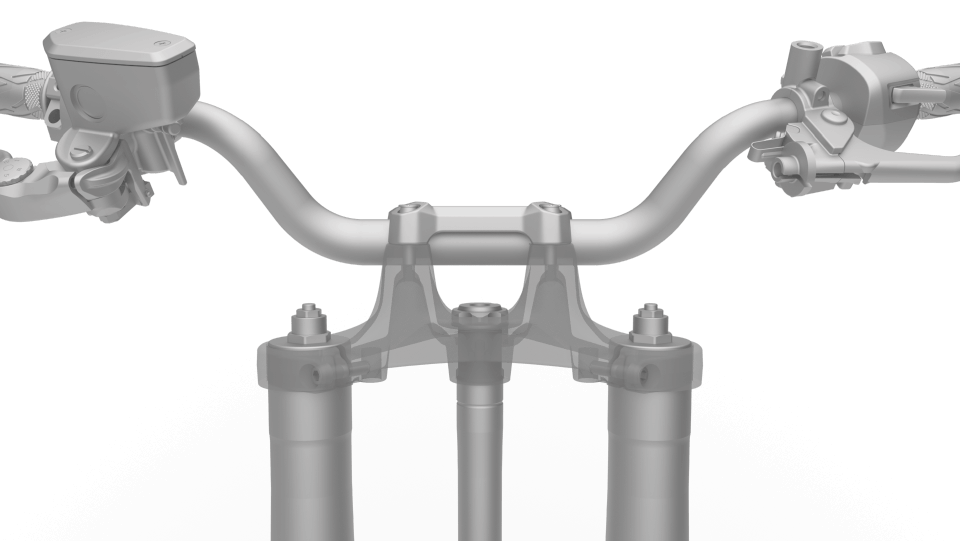 Previous handlebars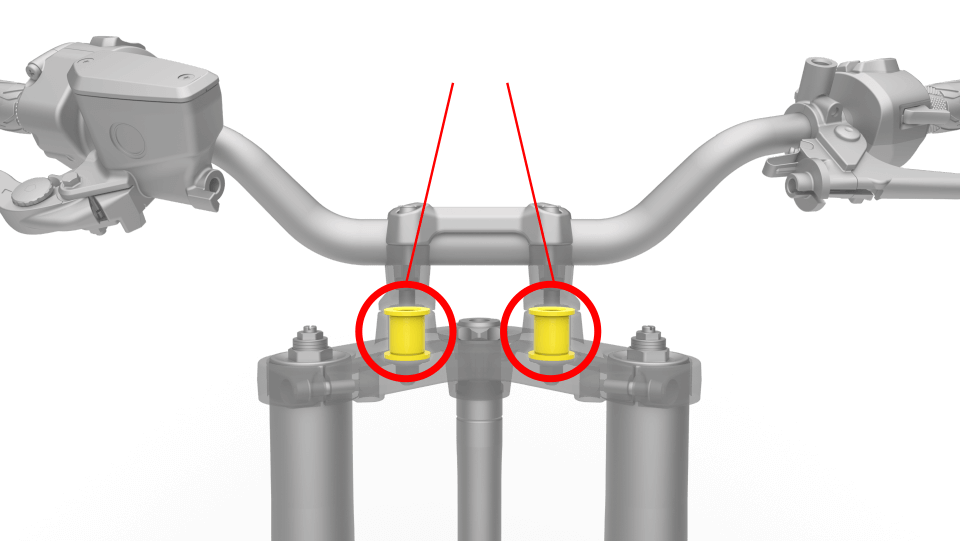 New handlebars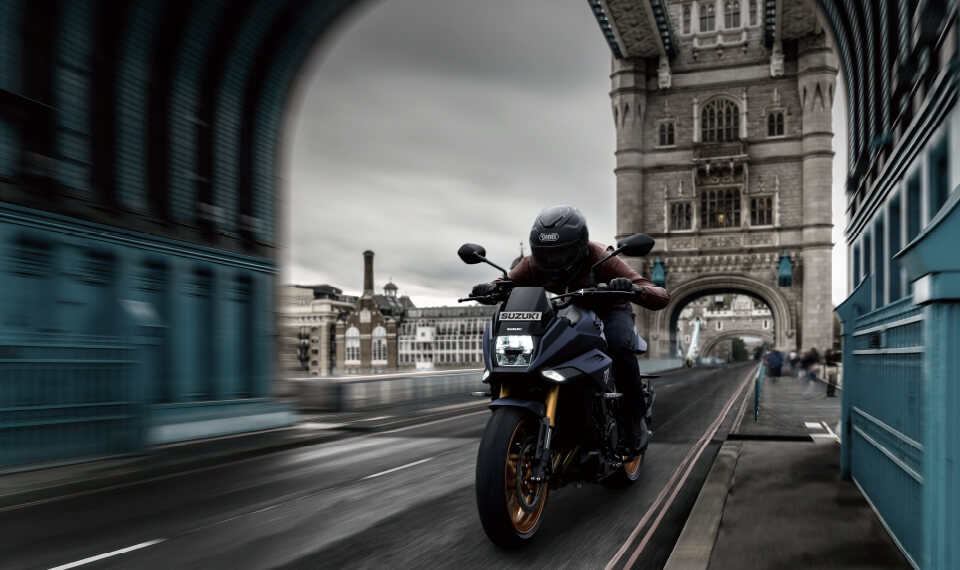 Electronic Design
Multi-function instrument cluster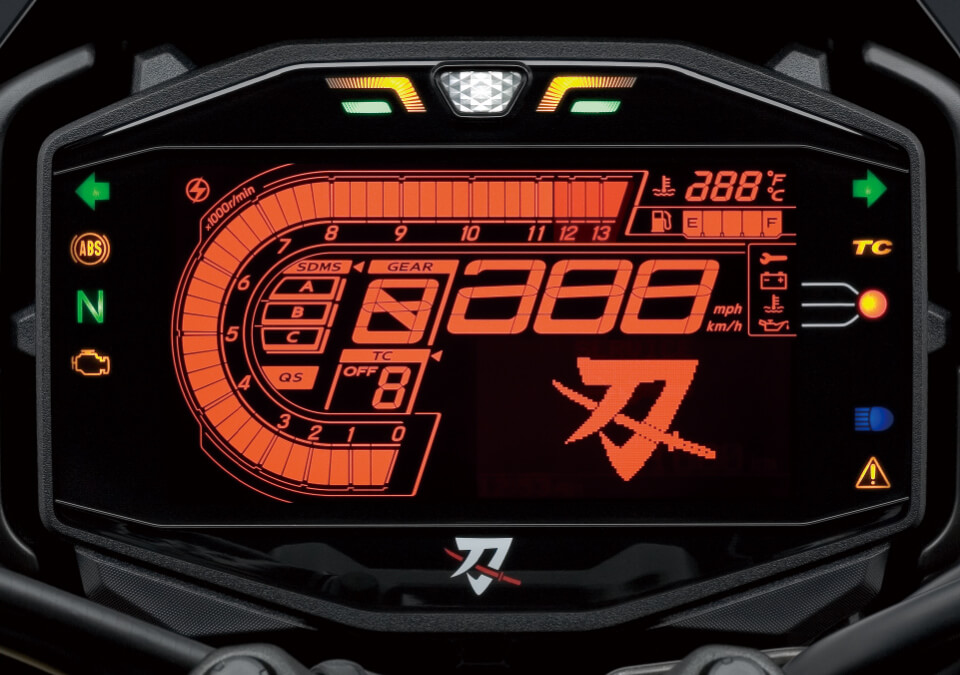 At night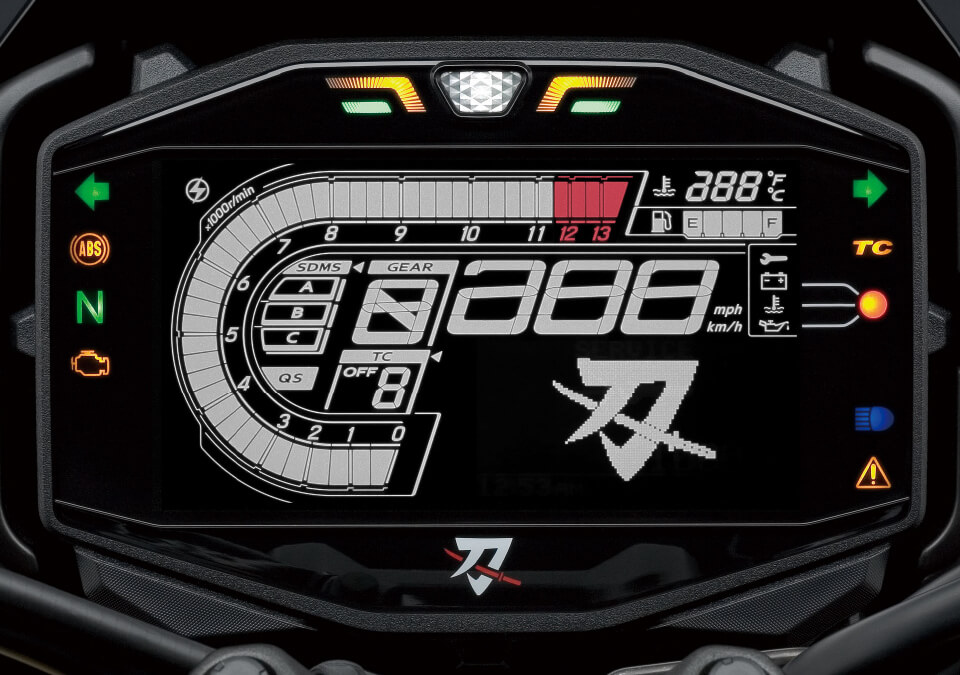 In daylight
*All lights and indicators are illuminated in the photo for illustrative purposes.
The full LCD brightness-adjustable instrument cluster packs a wide range of useful information into a relatively compact form factor. It is also designed to make the readouts from its multiple functions easy to recognize. The look is one of high quality that helps instill pride of ownership. The panel features a custom display. Amber backlighting exclusive to the 2022 KATANA creates a unique contrast that clearly displays the lettering against the black background when riding at night, but that looks white when riding in daylight to maintain clear visibility of the displayed information. A brief custom animation plays when the ignition key is turned on, offering a playful presentation that is pleasing to the eye and heightens anticipation of the ride to come. One other touch for the updated instrument cluster is a change to feature the KATANA logo at the bottom in place of the SUZUKI lettering of the previous generation. LED indicators designed for easy recognition flank the display. Included are those for the turn signals, high beam, neutral, malfunction, master warning, ABS, traction control system, low voltage warning, coolant temperature and oil pressure.
Highly functional and attractive lighting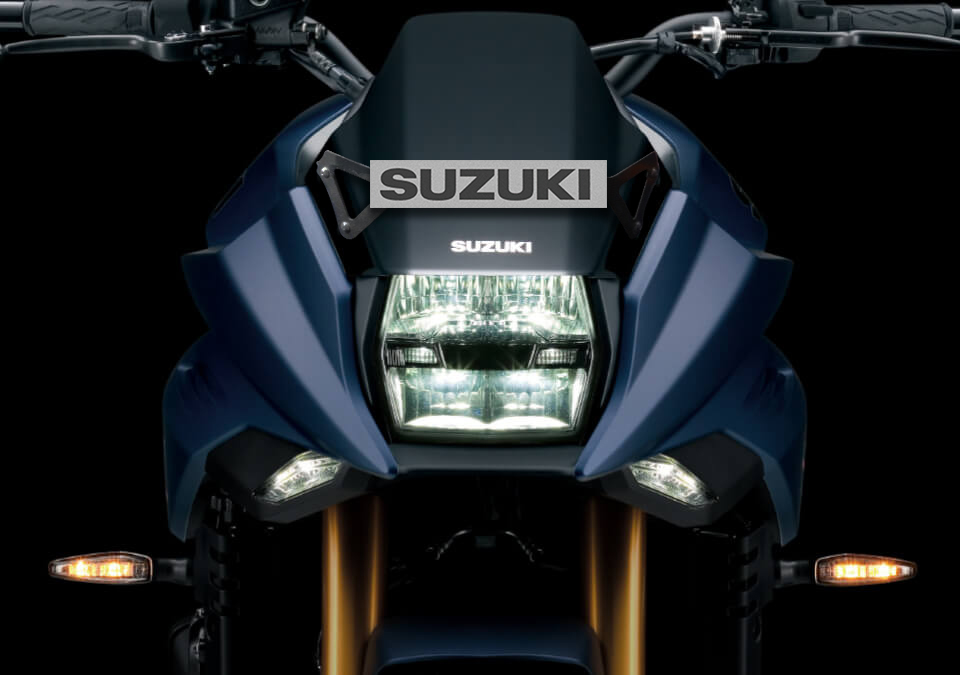 LED headlight
The highly distinctive light beam of the vertically stacked LED headlight provides clear illumination and helps make the KATANA clearly visible to pedestrians and other traffic at night.
LED front position lights and turn signals
The clear white position lights and amber turn signals provide high visibility, durability and overall efficiency.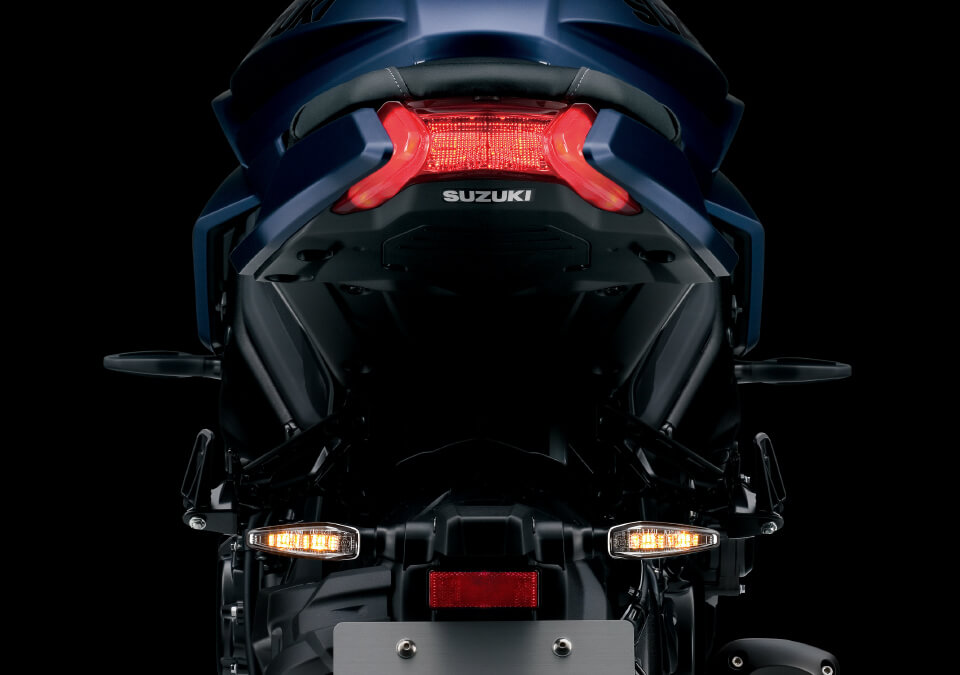 LED tail light and brake light
The distinctive design of these lights creates a sharp look, while the red LED lighting scheme provides high visibility, durability and overall efficiency.
LED rear turn signals
Mounted on the unique satellite rear fender that extends from the swingarm, these bright LED lights are highly visible and durable.
Personalize your ride
A lineup of custom accessories allows each rider to customize their KATANA to best express their personal tastes.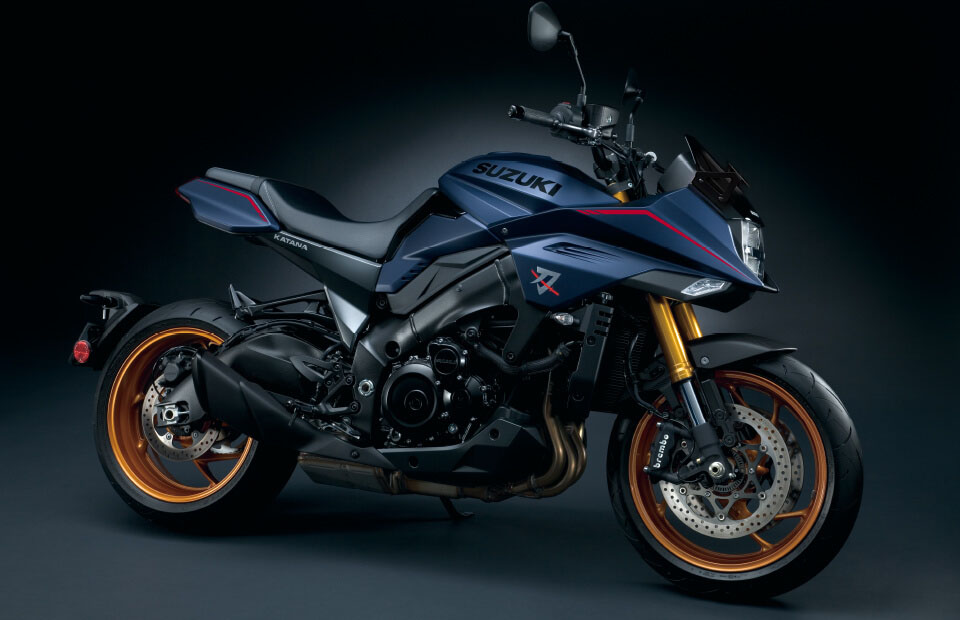 TANK PAD CARBON DESIGN
FUEL CAP PROTECTION STICKER
SIDE PROTECTION FOIL
Note: The accessories shown are not a part of the standard supply condition. Suzuki Motorcycle India Private limited reserves the right to introduce, upgrade specifications of Genuine Accessories from time to time. Customers are advised to check availability of Genuine Accessories and details thereof with Suzuki Authorised dealers at the time of purchase.
ENGINE
| | |
| --- | --- |
| Engine Type | Four-stroke, liquid-cooled, DOHC, in-line four |
| Bore x Stroke | 73.4 mm x 59.0 mm (2.9 in x 2.3 in) |
| Displacement | 999 cm³ (61.0 cu. in) |
| Compression Ratio | 12.2 : 1 |
| Lubrication System | Wet sump |
| Transmission Type | 6-speed constant mesh |
DIMENSIONS & WEIGHT
| | |
| --- | --- |
| Overall Length | 2130 mm (83.9 in) |
| Overall Width | 820 mm (32.28 in) |
| Overall Height | 1100 mm (43.3 in) |
| Wheel Base | 1460 mm (57.5 in) |
| Ground Clearance | 140 mm (5.5 in) |
| Seat Height | 825 mm (32.5 in) |
| Kerb Mass | 217 kg (478.4 lbs) |
BRAKES
| | |
| --- | --- |
| Front | Disc brake, twin |
| Rear | Disc |
TYRES SIZE
| | |
| --- | --- |
| Front | 120/70ZR17M/C (58W), tubeless |
| Rear | 190/50ZR17M/C (73W), tubeless |
| Rake / Trail | 25° / 100 mm (3.9 in) |
SUSPENSION
| | |
| --- | --- |
| Front | Inverted telescopic, coil spring, oil damped |
| Rear | Link type, coil spring, oil damped |
ELECTRICAL
| | |
| --- | --- |
| Starter system | Electric |
| Ignition System | Electronic ignition (transistorized) |
FUEL TANK
| | |
| --- | --- |
| Fuel system | Fuel injection |
| Fuel Tank Capacity | 12.0 L (3.2 / 2.6 US / Imp) |
Price inclusive of these accessories – Mirror Set & Side Stand.
Price does not include Extended warranty, Zero Depreciation Insurance and any accessories other than mentioned above.
Acko Drive Awards - 2023
Premium Performance Motorcycle of the year for KATANA
Acko Drive Awards - 2023
Premium Bike of the year for KATANA
Zee Auto Awards 2022
Design of the Year - Suzuki Katana
Auto X Awards 2022
Best of 2022 - Suzuki Katana
JAGRAN HITECH AWARDS 2022
2022 Premium Bike Of The Year - Suzuki Katana
ABP Live Auto Awards-2022
Premium Bike of the Year
Autocar Awards 2023
Premium Bike of the Year - Suzuki Katana
TopGear Awards 2023
Two-Wheeler Of The Year : Upto 1000CC - Suzuki KATANA
Motoring World Awards 2023
Design of the year - Suzuki Katana